2nd way METRO is creating traffic jams
METRO is pushing for converting road lanes into bus & bike-only lanes.
"Metro is pleased to be an early funding partner in the planning and implementation of the Central City in Motion project, which will have regional impacts on bus lines on SW Madison reaching from North Portland to Gresham to Clackamas County,' said Metro Council President Lynn Peterson. 'We are excited to see this project move ahead and look forward to more of these types of improvements around the region.'"
Portland is reducing road lanes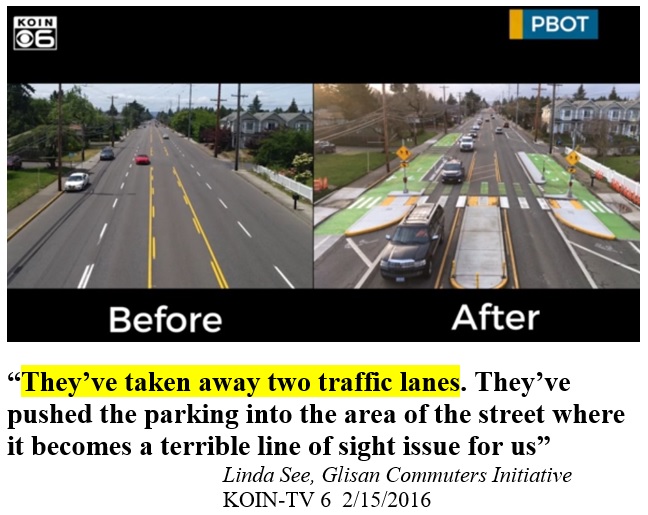 From KOIN-TV-6 Local group opposes NE Glisan St. lane reduction, changes
"Locals living in East Portland have formed a group opposing recent changes to a major stretch of Northeast Glisan street, spanning 122nd to 162nd avenues.
 The $400,000 Portland Bureau of Transportation (PBOT) project included a reduction of car lanes from two each way, to just one.
 Linda See of Glisan Commuters Initiative said the changes don't represent the desires of many local residents she's spoken with.
"They have taken away two traffic lanes. They have pushed the parking into the area of the street where it becomes a terrible line of sight issue for us," she said.
Some area residents in the Hazelwood Neighborhood are concerned with the street parking set up on NE Glisan St. for line-of-sight reasons. February 14, 2020 (Danny Peterson/KOIN).
See has been a resident of Northeast Portland's Hazelwood Neighborhood for 20 years. She spearheaded the group of about 10 who oppose the changes, called the Glisan Commuters Initiative. The group has received the full support of Hazelwood Neighborhood Association, she said, some members of which are also associated with her group.
"The concern of this task force, which is a group of Glisan-area residents, is that we are not comfortable with PBOT's rationale for what they've done to Glisan Street," See said.
Chris Fisher is another member of the group. He says the rush hour traffic has caused traffic backups and slow downs that are a pain for his morning commute across town."